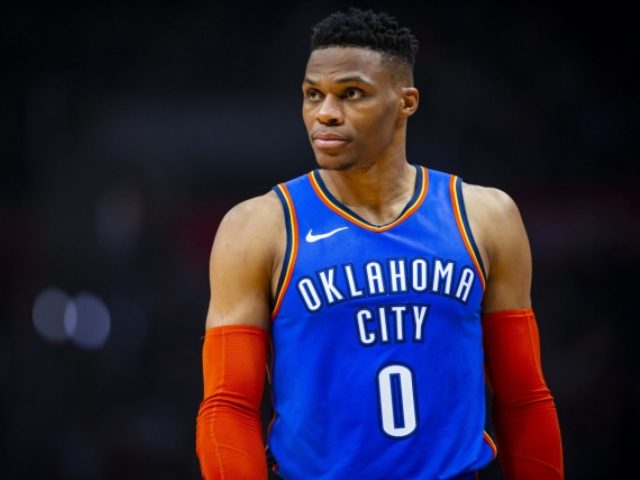 Russell Westbrook suspected his nasty confrontation with an National Basketball Association fan in Utah Monday night was racially fueled. Keisel said that he told Westbrook to "sit down and ice his knees" because Westbrook was wearing wraps on both knees. Westbrook claimed the man told him to, "Get down on your knees like you're used to". The All-Star responded with the fire as expected. "You and your wife, I'll f*** you up".
Shane Keisel told TV station Salt Lake City NBC 5: "I never said a single swear word to him, not one". 'I'll f*ck you up. You and your wife! Nah, f*ck that! Nah, f*ck that! The Utah that I have come to love is welcoming and inclusive and last night's incident is not indicative of our fan base. I'll f-- you up.
Not only were we able to hear Westbrook's side of the story, but we were also able to hear the fan's perspective of things.
The Thunder's Patrick Patterson and Raymond Felton confirmed Westbrook's account of the fan's behavior.
"If you want to talk about tonight's game, we can do it", Westbrook said when asked his reaction.
"I am personally hurt by the incident at the game on March 11th", Mitchell said in the statement, according to Deseret News. There's got to be some consequences for those types of people that come to the game just to say and do whatever they want to say.
Duke's Williamson, UVa's Bennett earn individual ACC awards
Barrett won the ACC scoring title, averaging 23.4 points while pulling down 7.5 rebounds per game. Only the North Carolina Tar Heels, this season, matched UVa's 16 wins during this era.
"Talking about the difference between playing at home compared to on the road during the series against the Jazz, Warriors forward Stephen Jackson said, 'Well, we're not hearing racial slurs, we're not hearing people wishing for me to go to jail".
Westbrook further said in his postgame comments that he never has and never would get physically violent with a woman, but that he was so offended, he would take the same actions and say the same thing if he had it to do over again. "I expect anybody else to do the same". I've never done anything to hurt or harm anybody. It was amusing that he tried to backtrack and say what he didn't do when they interviewed him. "So that's kind of how that started", Westbrook explained. He says the fan's wife repeated the line. Keisel claims he then said, "You're going to need it".
Keisel, who wishes Westbrook would have been more professional, has long believed the player to be classless.
"Players and fans have a shared responsibility to create a safe and respectful environment", read a statement from the Jazz.
Deadspin notes that Westbrook has a bit of history with heckling Jazz fans, citing "a couple instances similar to this one between Westbrook and some random Utahns" during the playoffs last season.
Hopefully, this will put an end to inappropriate interactions between fans and players. There is no place in our game for personal attacks or disrespect.