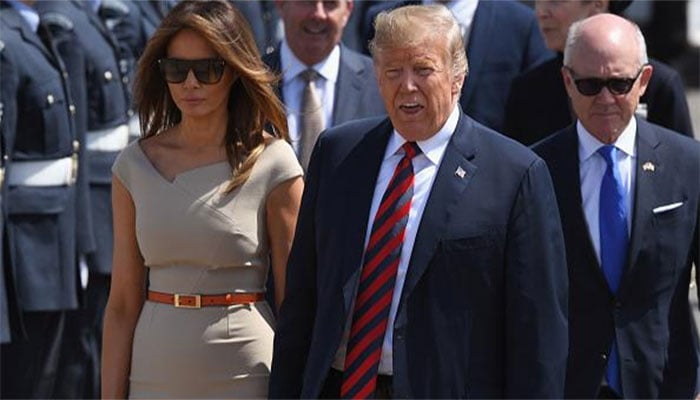 The holiday season is in full swing at The White House!
Decorations in the public areas of the White House include 58 Christmas trees, more than 2,500 strands of light, more than 800 feet (244 meters) of garland and more than 15,000 bows.
The White House and first lady posted video late Sunday of the 2019 Christmas decorations inside the White House. "I am delighted to share this lovely exhibit of patriotism for all to see, and excited for everyone to experience the beauty of the #Christmas season!"
Her "Spirit of America" theme made for trees and wreaths and decorations adorned with ornaments depicting stars and stripes, the American flag and, in the East Room, trees topped with giant, golden eagles.
The State Apartments at Windsor Castle are decorated with Christmas trees. Last year, she showed off images of blood-red Christmas trees lining the halls, sending Twitter into a horrified tizzy.
The Office of the First Lady invited reporters and Breitbart News to an early Monday morning preview of the decorations, a tribute to "The Spirit of America".
Prince Andrew's accuser Virginia Roberts Giuffre dismisses his denials as 'ridiculous excuses'
The FBI and the Department of Justice's inspector general are investigating the circumstances of his death. It went viral on Twitter, with many people frantically asking whether Her Majesty had passed away.
"When I travel the country, I am inspired by the hard working people and families that I meet", the first lady said.
She continued: "No matter which state they call home, many Americans share a strong set of values and deep appreciation for the traditions and history of our great nation".
The Grand Foyer at the White House.
Meanwhile, patriotism is the theme of Christmas at the White House in the US.
A decorated tree stands next to the portrait of President George Washington in the East Room.
The flag colours (red, white and blue) taking centre-stage, from fire place covered in red roses, the national flower of the United States since 1986, to flag-themed ornaments in the trees, together with festive gold and green.