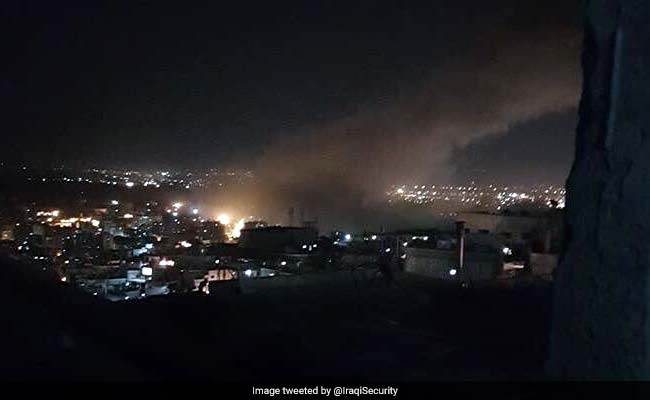 The meeting at Number 10 was held to determine whether Britain would join US-led air strikes against the regime of president Bashar Assad.
Asked if there were any circumstances in which he would back air strikes in Syria, Mr Corbyn told BBC One's The Andrew Marr Show: "I can only countenance involvement in Syria if there is a United Nations authority behind it".
"I think what we need in this country is something more robust like a War Powers Act so governments do get held to account by parliament for what they do in our name".
In his interview with Sky News, Corbyn pointed to the 2013 investigation into the chemical weapons attack in Ghouta and the agreement reached between the then USA secretary of state, John Kerry, and the Russian foreign minister, Sergei Lavrov, to allow the destruction of large quantities of chemical weapons in Syria.
In theory there are three alternative responses - the first a punitive strike such as the U.S. attack on the Shayrat air base in April 2017 that saw 59 Tomahawk cruise missiles hit the the air base in response to a chemical weapons attack.
Asked if he would order military action in any circumstances if he was prime minister, the Labour leader replied: "No-one would ever say never".
Mr Corbyn said the air strikes may have been illegal, despite the government's assertion that it was allowed under worldwide law to take military action to alleviate overwhelming humanitarian suffering. There is precedent over previous interventions where parliament has had a vote.
A girl looks on following alleged chemical weapons attack, in what is said to be Douma, Syria in this still image from video obtained by Reuters on April 8, 2018.
"She could have recalled Parliament last week - it is only the Prime Minister who can recall Parliament - or she could have delayed until tomorrow when Parliament returns".
Gold double for New Zealand
And Australia soon were level after Ellia Green beat the New Zealand defence on the right-hand touchline following a ideal pass from Tonegato.
Labour's shadow home secretary Diane Abbott also warned against military action, telling BBC Radio 4's Today programme: "The real danger is that what starts out as a justified punishment for the use of chemical weapons ends up with the Royal Air Force serving as the air arm of the Jihadi extremist rebels in Syria".
First Minister of Scotland Nicola Sturgeon described the legal position as "thin", while BBC political editor Laura Kuenssberg noted that the United Kingdom is one of the few countries that tries to use humanitarian arguments to justify military action and most worldwide lawyers don't accept the contention.
Jeremy Corbyn has said he wants "incontrovertible proof" before blaming Russian Federation for the Salisbury nerve agent attack.
On Friday, campaigners from the Stop the War Coalition were due to hand in a letter to Downing Street signed by MPs, trade unionists, celebrities and academics urging Mrs May not to take military action in Syria.
Corbyn, the British opposition leader who unexpectedly became party head in 2015, is a supporter of Palestinian rights and a critic of Israel.
Her decision came despite demands from opposition parties that Parliament was consulted before any military action was launched.
Reports from Washington have suggested US President Trump considers himself "locked and loaded" for future military action against the Assad regime but Johnson insisted there was "no proposal on the table" for renewed strikes.
"The government must present the objectives of any proposed action to Parliament".