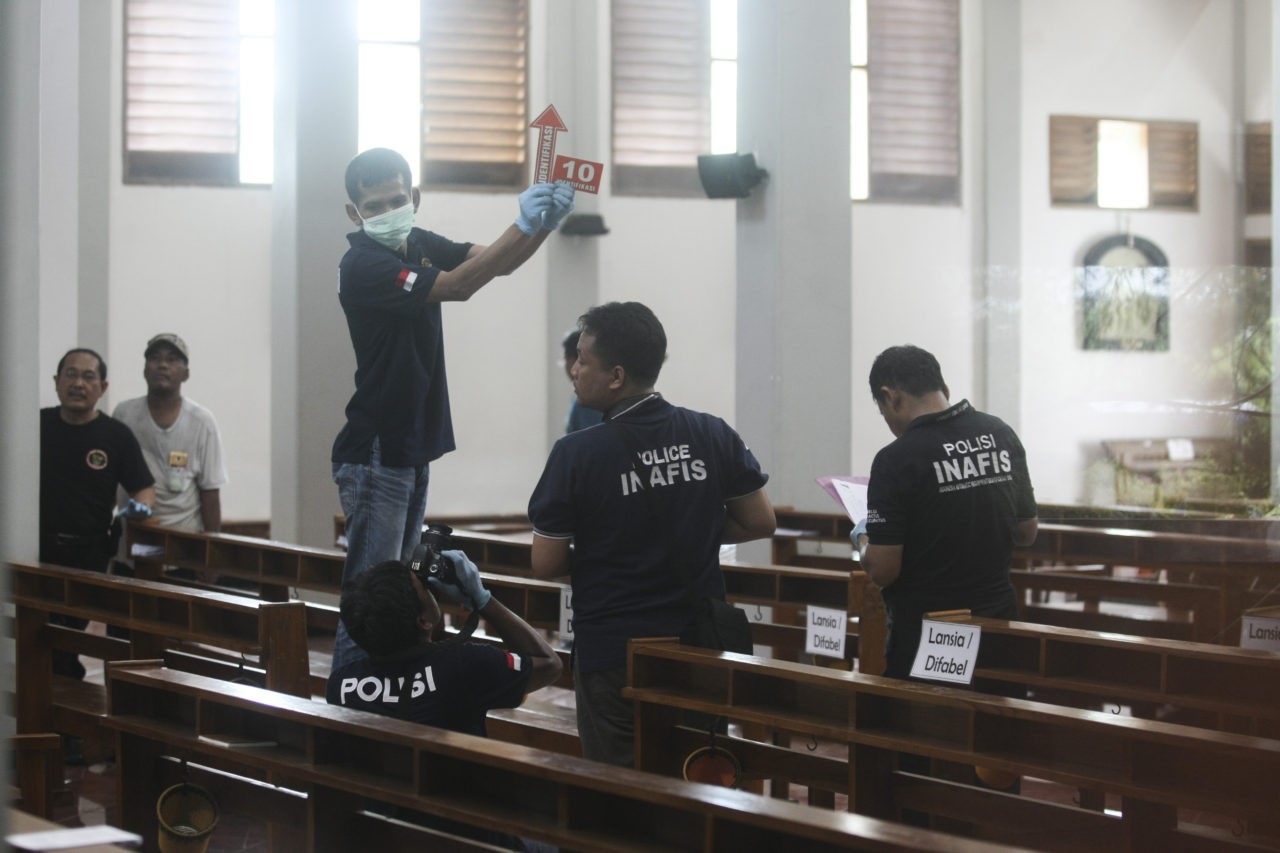 A priest and several churchgoers have been injured during a machete attack on a church in the Indonesian city of Yogyakarta.
Police in the world's most populous Muslim nation in the world say they are stumped about a motive.
Extremists have carried out a series of attacks against Christians and other minorities in the mainly Muslim country.
In this photograph shot through a glass window, police investigators examine the interior of St. Lidwina Church in Yogyakarta province, Indonesia, following an attack by a sword-wielding man during Sunday Mass, Feb. 11, 2018.
He said: Everybody started panicking and screaming. Take just 30 seconds and sign up for WND's Email News Alerts!
Church security tried to prevent the attacker from entering the church, but he forced his way in, police officials told CNN Indonesia.Police opened fire on the attacker, who's been hospitalized, it said.
He also destroyed icons of Jesus and the Virgin Mary during the attack, which lasted about 15 minutes before police arrived at the scene.
Hong Kong bus overturns killing 18
He said the franchise bus company would pay $10,000 to each injured person and family of the deceased. The injured passenger told the paper: "It was much faster than I normally felt in a bus".
The police spokesman said: After the warning shot was sacked, the attacker charged towards the officer with his sword. "The officer then shot him below his stomach, but he managed to injure the cop before being subdued", Cahyo said.
Prier, who has been living in Indonesia for decades, is now an Indonesian citizen.
Police said the man was a university student in his early 20s but could not confirm if the incident was terror-related.
All the victims have been taken to hospital for treatment.
"We haven't found leads to terrorism yet and it doesn't seem to be terrorism", he said, adding that police also had found no evidence the attack was religiously motivated against members of Indonesia's small Christian minority.
In August 2016, a priest was injured by another knife-wielding man in what appeared to be a botched suicide-bombing attempt at a church in Sumatra, also during Sunday prayer services.