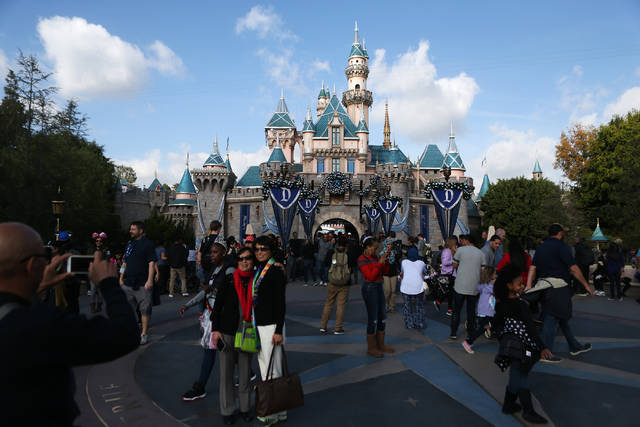 Disney's theme parks adjust their one-day ticket prices based on expected crowd levels for the day.
Both of the iconic theme parks have increased their ticket prices every year since the 1970s.
Beginning on Sunday, Magic Kingdom "value" days will cost $109 for an adult and $103 for children. That's a $4 increase over a year ago. During "regular" time, park visitors will pay $4 more with prices jumping to $119 for adults and $113 for children.
At Disneyland, "peak" single-day tickets increased by $11 to $135, regular-priced days increased $7 to $117, and value-day ticket prices did not increase from $97.
"Peak" prices will be set at $129 for an adult and $123 for a child. Former Signature pass costs 849 USA dollars, which includes free parking, goes up to 999 US dollars while the most expensive Signature Plus pass, with free parking and an online app to board rides faster, is now 1,149 USA dollars, up from 1,049 US dollars.
But it hasn't gone to the point of pricing Disneyland higher than California Adventure on a one-day ticket, the way that it does with the Magic Kingdom versus the other three Walt Disney World parks in Florida.
381-point Dow surge disappears as bond jitters return
Fed speakers will get a lot of attention Thursday. "When that ball bounces out, it's going to spike", said Boockvar. Treasury bond yields have been so low that many stock dividends are paying better.
Disney also says it will extend its pre-published, date-specific pricing to multi-day tickets at Walt Disney World.
Southern California residents still have rights to buy a "select passport" for 369 US dollars but that pass blocks out all weekends and nearly the entire summer and Christmas season.
The price for parking is also increasing.
All prices changes are reflected on the official Disney Parks website. Managers of the company have been struggling for years to balance their desire to keep the parks full against the reality that they are crowded on a daily basis.
Details on the fixed-date tickets created to control attendance will be released in advance of next year's opening of Star Wars Lands.