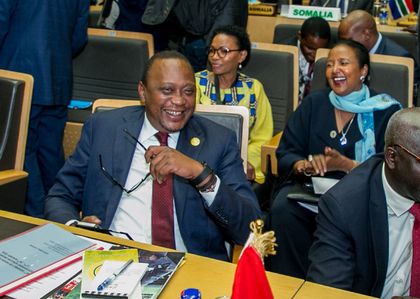 US President Donald Trump appears to have taken back the disparaging remarks he made in reference to African countries recently.
In the letter, Trump says the United States "profoundly respects" the partnerships and values shared by the USA and Africans.
In the letter, Trump does not acknowledge the reported comments, therefore there was no apology but said Secretary of State Rex Tillerson would make a "extended visit" in March.
The comment attributed to Trump was made earlier this month during a White House meeting with congressional leaders about reforming US immigration law, particularly a federal program that promotes diversity among the country's immigrant population.
In a letter dated January 25, Trump paid glowing tribute to the African Union as it gathered in Addis Ababa, Ethiopia, for the Peace and Security Council meeting at the 30th AU Summit.
United States diplomats have been trying to address shock and condemnation after trump reportedly compared African countries to a filthy toilet.
West Ham's Arthur Masuaku Could Face Lengthy Ban For Spitting Incident
The Premier League side were already a goal down before the sending-off, with Will Grigg netting after just seven minutes. They have now beaten another English Premier League club West Ham United in the fourth round.
USA diplomats have scrambled to clean up the mess Trump made with his comments.
Trump's letter, seen by The Associated Press and confirmed by two US officials, says the U.S. It also notes that USA soldiers are "fighting side by side" against extremism on the continent and that the U.S.is working to increase "free, fair and reciprocal trade" with African countries and partnering to "safeguard legal immigration". A State Department official said it was expected to include stops in four to six countries.
In a letter written to the African leaders which was written on Thursday, Trump offered his "best wishes for the successful African Union (AU) summit", and noted that his administration is committed to ensuring "free, fair and reciprocal trade" with the African countries, while working to "safeguard legal immigration".
"Had very good bilateral meeting with @realDonaldTrump!"
The U.S. will be represented at the gathering by Ambassador Mary Beth Leonard, the U.S. envoy to the AU, instead of the traditional high-level Washington delegation.