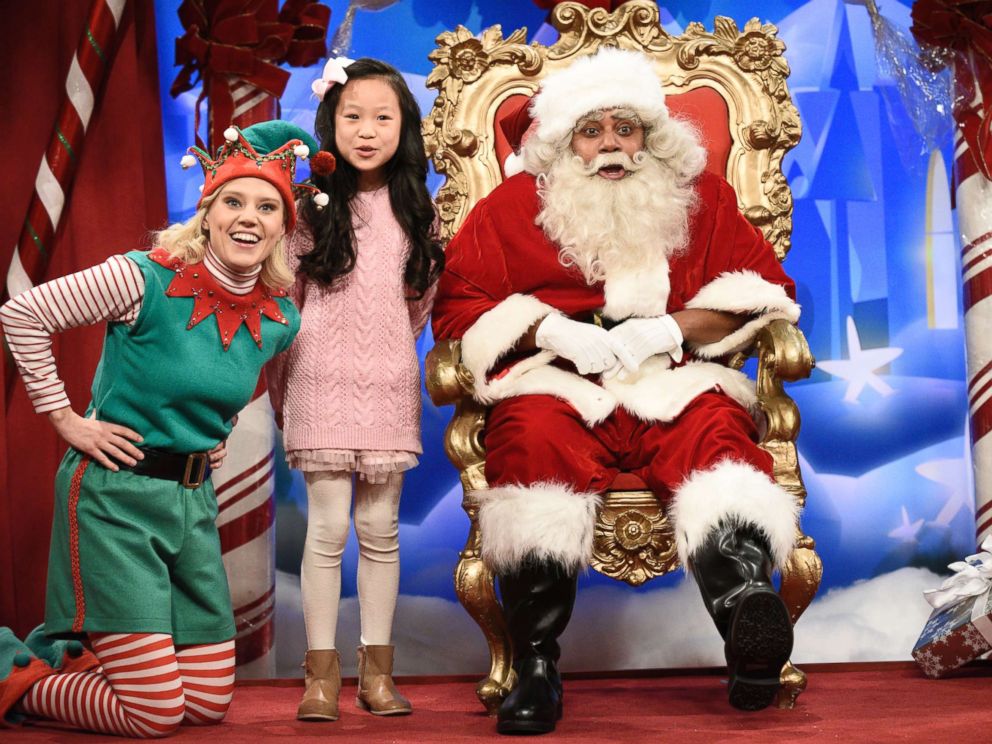 "Saturday Night Live's" take on politics this week featured elf Kate McKinnon and Santa Kenan Thompson in the cold open listening to a line-up of smart kids asking about everything from opioids to Colin Kaepernick and toys - more specifically, Matt Lauer's sex toys.
Strong's "Cathy Anne", a hard-drinking, drug-abusing political junkie ("and a regular junkie"), delivers a pointed, frequently crass summation of the dichotomy between now-former Senator Al Franken's recent resignation and Roy Moore's near-certain Congressional election win in Alabama on December 12.
"Well, Santa likes to stay out of political matters", responded Santa. "Google it", referring to the women who have come forward with accusations against the president.
After Tyler, a girl named Jessica visits Santa, and wants to know if President Donald Trump is on the naughty list.
Basically all of these kids are clearly on Twitter 24/7, because they go on to ask about everything from the police brutality protests going on in the National Football League to the opioid crisis to trickle-down economics. "And if you ain't got nothing to apologize for, then why the hell are you resigning?".
Asks the sassy girl, "From where?" We both know coal is a dying industry'.
One girl bitingly summed up the way she saw the events of the past year play out. "I just want everything to be OK". "I know that things seem particularly insane right now - like truly, mind-bendingly insane".
Cleveland Browns: Did Browns comply with Rooney Rule in GM search?
In firing Brown, the team confirmed that head coach Hue Jackson's job would be safe. ESPN was first to report Brown's dismissal. Instead, Brown opted to trade back.
"We seem to have lost all perspective on what's naught and nice", McKinnon tells a child.
If these kids are anything, it's tuned in... as in tuned to CNN, MSNBC and even Fox News. Maybe not today, maybe not tomorrow, maybe not for another three years, 42 days and 24 minutes, but most people in America are good people.
And then in a nod to Bitcoin's buyount trading, the girl said, "OK good".
"No", she replies. "And in this climate can you just call me Amy?" she retorts. After explaining that Trump might have said or done a few naughty things, McKinnon's elf interjected with a sly grin.
"And what about Roy Moore?".
Stumped, Santa agrees to handle the Mega Bloks and the laser tag, but asks Sugarplum the elf to take the "Al Franken thing".