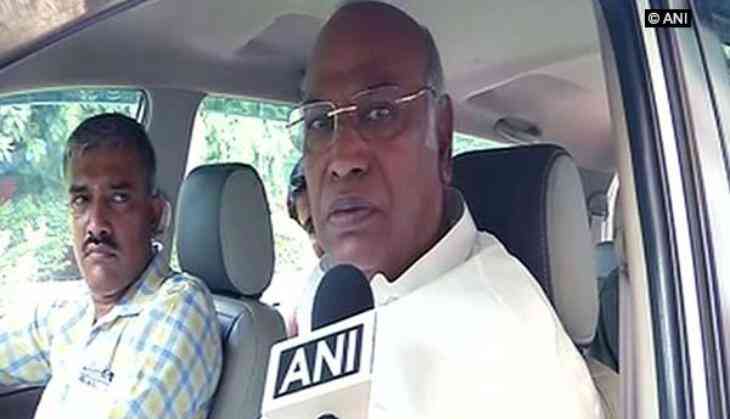 The BJP Parliamentary Party Executive will meet on the eve of begining of the monsoon session that will be chaired by Prime Minister Narendra Modi.
"Farm distress" and the "economic burdens" on the people were also taken up.
The all-party meeting was called by the ruling-government to seek the Opposition's support for the smooth conduct of proceedings in both the Houses.
Prime Minister Narendra Modi, during the all-party meet, said advancing the Budget by a month helped increase overall expenditure by almost 30%, with a 48% rise in spending on infrastructure development.
The Congress party today said differences with China over Kashmir were a new focal point, and the party will seek a debate in parliament on the issue.
The Monsoon Session is starting on Monday and is expected to be a stormy affair over issues like lynching incidents and vigilantism over cow, the Kashmir situation and the border stand-off with China.
Among those opposition leaders who attended the meeting were Ghulam Nabi Azad (Congress), Sharad Pawar (NCP), Sitaram Yechury (CPI-M), Mulayam Singh Yadav (SP), Farooq Abdullah (NC) and D Raja (CPI).
Mark Ruffalo Claims Another Standalone Movie for The Hulk Will "Never Happen"
Universal owns the rights to Hulk movies and they share him with Marvel for various team-ups like The Avengers . As it stands, we last saw Hulk riding off into the sky at the end of Avengers: Age of Ultron.
He told the all-party meeting that 30 per cent of total expenditure and 49 per cent of spending in the infrastructure sector had already taken place before the monsoon started due to the advancement of the budget.
"This session will see the election of the new President and Vice-President", he said.
Mr. Modi also brought up the issue of political corruption, days after the family of RJD chief Lalu Prasad came under the scanner of central agencies.
The Opposition simultaneously challenged the Centre on issues that underline a deteriorating internal security situation, including the recent attack on Amarnath pilgrims.
Talking about Monday's voting for electing India's 14th president, Kumar said that Modi urged MPs of all parties to exercise their right to vote. "This is impossible, unless the government plans to pass all these bills and grants in the din minus any discussion", he said.
Nine of these legislations, including The Whistle Blowers Protection (Amendment) Bill, 2015 and the National Commission for Backward Classes (Repeal) Bill, 2017, have been passed by the Lok Sabha and are listed for passage by the Rajya Sabha.