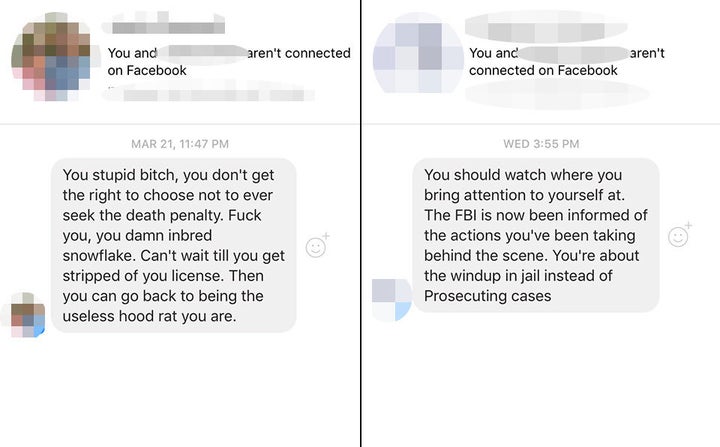 State Attorney Aramis Ayala, who serves Osceola and Orange counties, filed a federal lawsuit claiming that Gov. Rick Scott (R) violated her constitutional rights when he signed a series of executive orders directing her reassignment from 23 murder cases in which she wouldn't be pursuing the death penalty. He said that over the past two weeks, two envelopes with messages were delivered to Ayala's downtown Orlando office.
According to Ayala's office, the first letter arrived on March 20th in an envelope that read, "Sooner or Later A Nigger Will Be A Nigger".
The sheriff's office redacted the contents of both letters.
About a week later, the clerk found a second letter containing a noose made out of green twine and taped to a postcard.
She said she "believes the hangman's noose was meant as a threat to her as a public official", according to an incident report.
Shooting spree victim was turning life around, says family
Muhammad also fired at a group of men at a bus stop and chased after one man, who was the heaviest and oldest of the group. On the night of April 13th police responded to the Motel 6 on Blackstone Avenue, where guard Carl Williams had been shot.
Ayala inspired opprobrium by many conservatives last month when she announced that she would never seek the death penalty against a defendant she was prosecuting. The Sheriff's office is now working with the United States Postal service to find the person responsible for this hate crime.
Aside from debating life and death, the conversation around Florida's death penalty has some racist undertones, as evidenced this week after Orange-Osceola State Attorney Aramis Ayala said a noose was mailed to her office. He had been wanted in connection to the shooting death of his 24-year-old ex-girlfriend, Sade Dixon in December.
Ayala says in spite of the threats, she wants to push the community to readdress how criminal justice is handled in Orlando.
"I think if you're going to be the state attorney and you're sworn to uphold the laws of the state of Florida, you've got to do all of them", McCabe said in a telephone interview Tuesday. "I've received several types of derogatory and racist remarks to me personally and professionally".